Dimples came across Chris Georgenes brilliant Flash Animation tutorial on the old Macromedia site last year. Even if you never intend to use Flash as your animation tool, his lessons will help you. In simple clear language, he teaches attention to detail and flare that make every character special. Unfortunately, it doesn't appear that the original video tutorial is still available on the new Adobe site but a text tutorial is availble here. Chris has an unreal portfolio site that can be viewed here.
Dimples defies anyone to look at these animations and not grin ear to ear. Although very simple, his animated condom is full of personality.

This is a peek at Mr. Condom used in a simple ad but you need to see the animation to fully appreciate the character Chris puts in his work. We can't help but notice the resemblance between Chris and Mr. Condom. Self portrait? Dimples wishes there was more that we could show here but everything is on his two websites linked above. Take a look at the work of a really funny and a really smart animator, Chris Georgenes.
[tags]Chris Georgenes, Flash animation, animator, cartoon, 2D animation, 3D animation[/tags]


Gitanjali Rao graduated from art school in 1994 and went on to intern with Indian Animator Ram Mohan. She wrote, drew, directed and produced a fifteen minute animated film, "Printed Rainbow", that was selected in the short film category at Cannes in 2006.
Rao's first film was "Orange" which did not make it through the strict Indian censorship policies. The style of "Orange" is reflective of her day job creating animated commercials.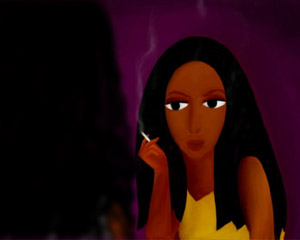 The story concept for her Cannes selection, "Printed Rainbow", is fascinating. From Television Point:
This 15-minute short film is about a woman in Mumbai, who lives all alone with just a cat for company. "She is an avid collector of match box covers. This leads to a dream world where she does adventurous things. From one matchbox to another, she goes on weaving her adventures along with her cat. Finally she comes back to reality," explains Gitanjali. The film has no narration and is a visual rendition of the woman. "Each frame is painted. I had to do it myself because it's experimental animation. I have shot the first part of the film in black and white to show the dreary existence of this woman. The rest of it is in a myriad of colours. I am so excited that it has been selected and that too for Cannes," says Gitanjali.
Observe the contrast in the image below from "Printed Rainbow" between the woman in black and white and the brightly colored matchbox.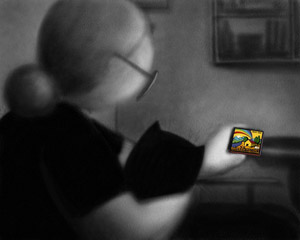 And, the bright world of the matchbox comes alive in this still from the movie.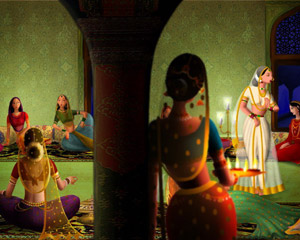 The Dimples team hasn't seen this movie but we love the concept and the stills. We're sure that there is much more to come from Gitanjali Rao. And, for a final tantalizing sample, here is a still from another short film, "Blue".
[tags]Gitanjali Rao, 2D animation, animation, Cannes, India, animation news[/tags]

From the earliest days of animation, Max Fleischer and his brother Dave were in direct competition with Walt and Roy Disney. His studio made the first sound cartoons in 1924 but over the next two decades they gradually lost ground to Disney. Disney's Snowwhite pushed Fleischer to produce their own full length feature which failed to make enough money to pay back the bank ending one of the most creative entertainment enterprises of the twentieth century.
The "Out of the Inkwell" DVD set, now widely available, shows some of the earliest animation methods used by the Fleischer Brothers on Koko the Clown. If you look at the animation of the 1920s, it isn't smooth like the animation from the 1930s. Dave Fleischer was a performing clown and Max made a series of short movies with his brother dancing around in his clown costume. Fleisher used the individual frames of these movies to create the animation for Koko the Clown. The early Koko the Clown cartoons that mixed real people and animated creatures are the true antecedents of "Who Framed Roger Rabbit".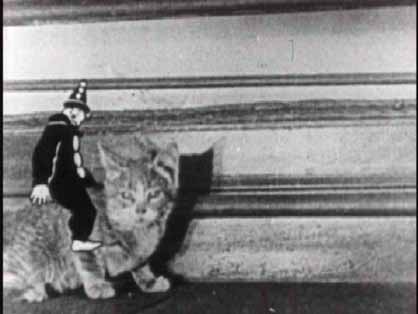 [tags]Animation, Max Fleisher, Betty Boop, Popeye, Koko the Clown, Out of the Inkwell, Cartoon, Disney[/tags]

May 29, 2006 · Filed Under
Animation Stars
·
Comments Off

on Colored-Pencil Animation
One of the most appealing forms of 2D animation is colored-pencil animation. A master of this type of animation is Bill Plympton.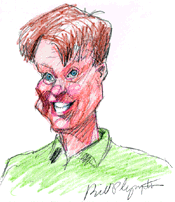 His long career as a cartoonist and illustrator have fostered an animation style that is warm and sketch-like while, at the same time, delivering a raucous surreal punch.
Portions of his traditionally colored feature, High Hair, is available here. If you want to see it in person, High Hair will be shown next week, June 8-11, at the Winnipeg Film Festival, Manitoba, Canada.


The Dimples' crew aspire to animate like Hugh Harman and Rudolf Ising. Harman and Ising left Disney when he moved his studio to California. Sometime later they re-joined Disney in California. In California, they were part of the team that created Oswald the Lucky Rabbit.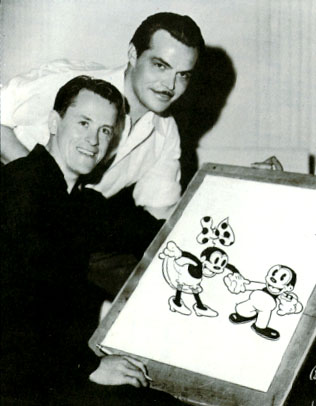 After leaving Disney again to form their own studio, they created Bosko the Talk-Ink Kid which was probably the first cartoon to have the speech fully in synch with the animation.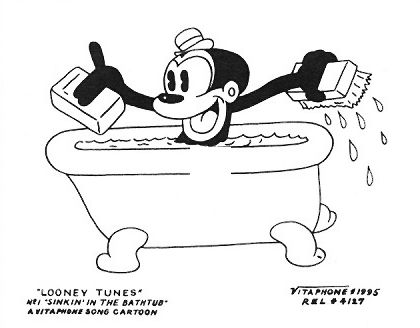 Looking at these animations today, it is sometimes difficult to get past the stereotypical portrayal of black characters but, sadly, this was not an issue to 99.99 per cent of the people running around in the 1930s.
This was the beginning of Merrie Melodies. Look at the Mickey doppleganger above. Dimples can't imagine that the trade mark sharks at Disney would allow something like that to appear today. The groundbreaking Bosko cartoons are available on DVD and are well worth the money to anyone interested in the history of animation.

Don Herztfeldt is a living icon to the guys at Darling Dimples. We love him. We envy him. We want to be him. We're not the only ones. Felix Hude, in his review of the 1996 "Genre", said:

"In our modern digital world it's a relief to see somebody actually using paper. A live animator and a cartoon rabbit battle for supremacy through sex, romance, children's parties, and The Last Supper. In the tradition of Koko the Clown, Don Hertzfeldt has created a delightful pen and paper and live action animation and worked his frustrations out at the same time. Very funny and skillfully low-tech."
In honor of the opening of the Da Vinci Code movie, enjoy the 1996 Bunny Jesus from Don Hertzfeldt.