July 19, 2006 · Filed Under
Animation Library
·
Comments Off

on Outlaw Animation – Cutting-Edge Cartoons from the Spike and Mike Festivals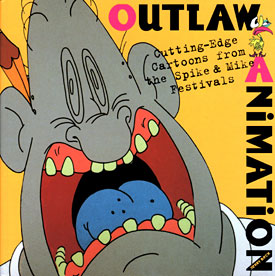 This is a must have book for your animation library. Outlaw Animation is a history of the first 25 years of the Spike and Mike Festival. The book is authored by Jerry Beck and Todd MacFarlane. The festival started as a barely noticed add-on to rock concerts to the premier showcase for new animators. Nick Park and Peter Lord of Aardman of Wallace and Gromit fame started here. Other notables include John Lasseter and Mike Judge. Besides being a wonderful compendium on the development of the modern indepedent cartoon, "Outlaw Animation" is a well told slice of history from 1977 to 2002. There are pictures galore including stills, behind the scenes shots and posters. Get your copy from our Animation Shop.
[tags]Outlaw Animation, Spike and Mike, Jerry Beck, Todd MacFarlane, animation festival, underground cartoons, 2D animation[/tags]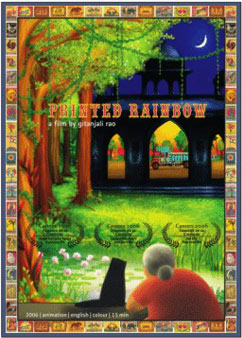 Dimples profiled animation rising star Gitanjali Rao a short time ago regarding her marvelous win at Cannes for her animated short "Printed Rainbow". Dimples has bemoaned the absence of a website for Gitanjali Rao and/or her movie. Finally, a webpage is available for "Printed Rainbow" here. While there is still no way to view this movie on-line, the new webpage has several stills from the movie. Perhaps, if we keep talking about this film, someone will provide a trailer. Dimples will continue to keep hoping.
[tags]Gitanjali Rao, Printed Rainbow, Cannes, 2D animation, animation awards[/tags]

The Mumbai International Film Festival in India focuses on documentary, short and animated films and is ranked the largest festival for these film categories. Animation is booming in all of Asia and one would expect this festival to be a showcase for new talent. Curiously, the judges declined to award a first place prize for animation deciding that no film at the festival merited that award. The "Second Best" animation film or video award was shared jointly by "Home Delivery" directed by Elio Quiroga from Spain and adapted from the Stephen King short story of the same name and "Boond" directed by Kavita Singh from India.
"Home Delivery" has been to numerous festivals winning many awards over the last few years. Naturally, as a Stephen King piece it's an ideal story for film. Here is a summary:
Jenny, on the island of Deer, Maine, is a sleepy provincial and miserable town. Life in this coastal town will be savagely affected by the arrival of a plague that infects the whole planet: the dead are rising from their tombs and devouring the living. That which seemed impossible is happening. Zombies have invaded earth. Maddie, a young woman incapable of making her own decisions, lives a placid and grey existence alongside her husband Jack, an illiterate and brutal lobster fisherman. Due to a terrible accident at sea, the mariner will die, swallowed by the waves. But the plague which runs rampant throughout Earth will also affect Jack, who will return from the dead and rise from his watery grave to visit his beloved wife.
Here are two stills from the 2D animated short, "Home Delivery":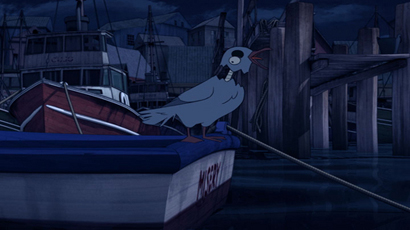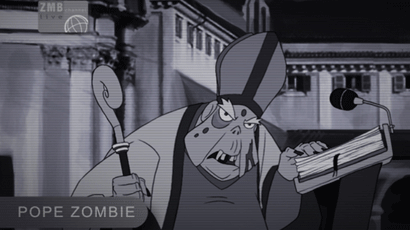 Kavita Singh's animated short, "Boond", is a tribute to a friend who died from lung cancer and, like "Home Delivery", this film has won multiple awards at other festivals. Like other award winning animators profiled on Darling Dimples from India, Ms. Singh does not appear to have his own homepage and Dimples couldn't find a single image from his movie to display here and that's just plain crazy.
In summary, "Home Delivery" is great and you can see it at the link provided above. "Boond" is probably great, too, but we don't know where to find it on-line. If you do, please let us know.[tags]MIFF, Mumbai Film Festival, 2D animation, Home Delivery, Boond, Elio Quiroga, Kavita Singh[/tags]


Times, they are a changin'. Women animators are breaking down doors with imagination and fresh perspectives. Leigh Hodgkinson is one of those women.
Have you seen "Cars"? The best thing you can about it is that it wasn't all bad. A great technical feat? Yes. Enthralling? No. Did you see the special Disney show where the animators and director of "Cars" were interviewed and profiled? Dimples did. Did you see any women? Dimples didn't but then Dimples was bored and didn't watch the whole show. Movies are made better when made from multiple perspectives. Cars came from a boy's perspective and it was ho hum as far as story and character were concerned. Hollywood needs more women animators, writers and directors. Dreamworks, as discussed in the previous post, has just hired the very talented Scottish animator Sharon Colman. Dimples thinks Hollywood needs to make a return trip to the UK and take a look at the work of Leigh Hodgkinson. She tells great stories with great characters.
From the BBC:
In 1995, after completing an art foundation course, Leigh went to University in Hull, leaving with a first in graphic design. 1999 saw her starting a post-graduate course at the National Film and Television School in Animation Direction where she made two short animated films, "Excess Baggage" and "Novelty". "Novelty" has since toured the world at countless festivals bringing home numerous prizes and awards including the 2002 British Animation Award for Best Creative Use of New Media.
Leigh has been a very busy woman in the intervening years. She's a working animator and director who has proven herself to be extremely accomplished at developing characters and telling stories in many different animation styles. Her film Moo(n) was selected for Sundance in 2004. A great selection of her films is available on her web page and at Slinky Films.
Here is an example of her drawing style from "Moo(n)".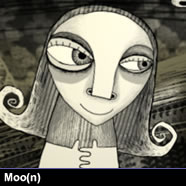 Move over Tim Burton. It's creepy cool 2D animated delight.
Check out these bunny eyes from "Stalk".

There are a few things bouncing around in Leigh Hodgkinson's head. They're funny, surprising, creepy and always entertaining.
[tags]Leigh Hodgkinson, 2D animation, Moo(n), Stalk, animator, director, writer[/tags]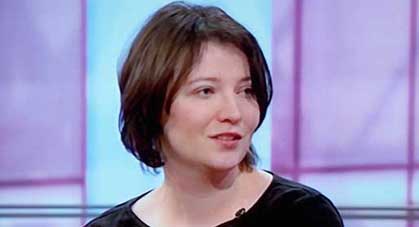 Dimples has already profiled Sharon Colman and her marvelous animated short, "Badgered", that was nominated for a 2005 Academy Award. We're ecstatic to announce that Miss Colman has accepted a position with Dreamworks and will be packing her bags for America. As reported at news.scotsman.com:
"Colman is swapping her modest lifestyle in rainy Scotland for the stars, sunshine and six-figure salaries of southern California. "
Dimples hopes she knows that six-figures barely pays the rent in La La Land. The Scotsman goes on to say:
"Colman's Oscar nomination for Badgered attracted the interest of Sony, Disney and Pixar. But it was DreamWorks – the creators of box office hits such as the Shrek series – who waved an impossible-to-refuse contract under her nose….

Colman said: "It came off the back of the Oscar nomination. One of the studios I went to was DreamWorks and they approached me with a job. I'll be working in the storyboarding department and I'm really excited.

"It's strange because I had to say goodbye to all my friends and colleagues, but it didn't really feel like I was saying goodbye. I haven't got very emotional yet.

"I went back to DreamWorks to have another look [at the offices] and have a chat with them. It's an amazing opportunity that they have given me and I'm extremely excited to be joining them."

Colman admitted that her Oscar exposure probably brought her the job that other animators covet.

"I don't know if this job offer would have happened if I hadn't got the nomination.

"I know that DreamWorks were aware of my film because during my graduation the company have a talent scout who grabbed on to my film and took it everywhere.

"She's been amazing – she took it to all the festivals. But as soon as it gets into the Oscars, everyone in LA knows about it. It definitely ups the ante. It's a big adventure."
Sharon's film was exceptional because it was full of personality. You could really identify with that Badger. And, it was made the old-fashioned way. It was hand drawn 2D animation that attracted the attention of every major animation studio. She told a story. She told a story with a character the audience understood. That's what movie-making is all about.
Congratulations Sharon Colman. Have your people call my people and we'll do lunch.
I wish.
[tags]Sharon Colman, Dreamworks, Badgered, 2005 Academy Awards, 2D animation[/tags]

July 6, 2006 · Filed Under
Animation Stars
·
Comments Off

on Grim Natwick – The Creator of Betty Boop

It's about time the Dimples team got back to good ol' black and white, hand-drawn, vintage animation. And, there's no better way to get there than with Grim Natwick, one of the greatest animators that ever lived.
Natwick was a master of every style imaginable. In his long career he worked for Ub Iwerks, Walt Disney where he animated Snow White and the immortal Mickey Mouse as seen in Fantasia, Walter Lantz, UPA and the Richard Williams crew. How was it possible for one person to excel and dominate so many different animation styles? Like many super successful hard working artists, Mr. Natwick lived a very long time. Read this interview done when he was 97 years old. He's as sharp as any young man in his mid-twenties could hope to be. What a marvel! He lived to be over 100 years old.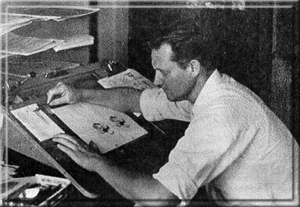 His given name was actually Myron but he earned the name Grim for being perpetually upbeat. He was a poet and a highschool football star. In fact, he was such a good athelete that he was invited to the 1908 Olympics.
I was recently reading a Daniel Clowes comic that challenged the reader to name one other person's life that you would like to lead. He said if you did enough research you would find out that no one's life was worth living. I think I might find Grim Natwick's life very much worth living.
[tags]Grim Natwick, Betty Boop, vintage animation, Snow White and the Seven Dwarfs, Fantasia[/tags]