Martha Sigall – Living Life Inside the Lines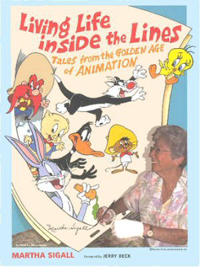 Looking for a great story from an animation legend? Look no further than Martha Sigall's "Life Inside the Lines: Tales from the Golden Age of Animation". Martha started as gopher at Leon Schlesinger's Pacific Art and Title when she was only 12 years old. She started painting animation cels when she was 15. This was a job that women were sometimes allowed to do in the animation studios of the 1930s. Certainly, none were allowed to be actual animators. From an interview at Comicon.com:
…in the very early days of animation, almost everything was done by men. Men even did the inking and the painting. It wasn't until the early '30s, at least in Hollywood, that women started doing these jobs. There was very much gender discrimination in the business at that time. Women were not allowed in the Animation Department, Layout, Story, and Camera departments. There were some women in the Background Department, but it really wasn't until World War II, when the men left for the service, that women were accepted into these other departments.
In "Living Life Inside the Lines", Martha provides an insider's view of the glory days of Warner Brothers animation:
She recounts her wild and wonderful experiences with the Warner Bros. cartoon crew, working and laughing all day with the animators, partying all night with the Looney Tunes gang on the bowling and baseball teams, and participating in weekend scavenger hunts. She was president of the in-house "Looney Tunes Club," co-wrote the company gossip column, and performed in the company's theatrical troupe.
This is a wonderful book for anyone interested in animation history. The book is widely available. Get your copy now.
[tags]Martha Sigall, Looney Tunes, Life Inside the Lines, 2D animation[/tags]

Comments