July 4, 2006 · Filed Under
Flash Animation
·
Comments Off

on Arj and Poopy – Flash Animation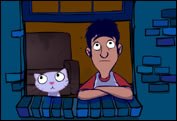 Bernard Derriman and Arj Barker have created a wonderful series of animated cartoons about a flatulent cat, aptly named Poopy, and his human pal, Arj. The Arj and Poopy Collection is available at Atom Films. The episode, "Unlucky in Love", won the Netsurfer's Award. Now that we have all the background information out of the way, the best place to get to know Arj and Poopy is on their homepage. It's much more than a site about a great little series of cartoons, it's a lesson in Flash design. The homepage has a discussion forum should you become an obsessed fan after viewing the seven films. Make sure you click on the link to Bouncy the dog.
[tags]Arj and Poopy, Flash animation, Bernard Derriman, Arj Barker, 2D animation, cartoon[/tags]


Dimples came across Chris Georgenes brilliant Flash Animation tutorial on the old Macromedia site last year. Even if you never intend to use Flash as your animation tool, his lessons will help you. In simple clear language, he teaches attention to detail and flare that make every character special. Unfortunately, it doesn't appear that the original video tutorial is still available on the new Adobe site but a text tutorial is availble here. Chris has an unreal portfolio site that can be viewed here.
Dimples defies anyone to look at these animations and not grin ear to ear. Although very simple, his animated condom is full of personality.

This is a peek at Mr. Condom used in a simple ad but you need to see the animation to fully appreciate the character Chris puts in his work. We can't help but notice the resemblance between Chris and Mr. Condom. Self portrait? Dimples wishes there was more that we could show here but everything is on his two websites linked above. Take a look at the work of a really funny and a really smart animator, Chris Georgenes.
[tags]Chris Georgenes, Flash animation, animator, cartoon, 2D animation, 3D animation[/tags]