August 22, 2006 · Filed Under
Animation Library
,
Animation News
·
Comments Off

on Tony White – ANIMATION from PENCILS to PIXELS: Classical Techniques for Digital Animators
Tony White has done it again. If you've scanned the pages here, you know that Darling Dimples holds Tony White's classic 2D animation primer, "The Animator' Workshop", in the highest regard. It's an indispensible tool. This week sees the release of White's new 500+ page opus, "Animation from Pencils to Pixels", which bridges the gap between tradional hand-drawn 2D animation and the new computer-assisted techniques. From the publisher's page:
Just add talent. This book gives today's digital animators all the lessons they never had-classical animation techniques used by the most original animators of our time. Animation from Pencils to Pixels is the most comprehensive book on the principles, processes, and profession of animation ever written. Within the covers of this one book is just about everything required to conceive, produce, direct, animate, assemble, publish, and distribute an animated film. The tips and techniques in this book are timeless and applicable whether you want to make a 2D or 3D film, or a Web-based animation or a game. The book includes a comprehensive DVD containing a full version of the author's film, "Endangered Species," which showcases the great and classic moments of animation's history. In addition there is an extensive analysis section on "Endangered Species," explaining how the film was made on a scene-by-scene basis, using movie clips and other demo material to illustrate the text. Completing the DVD is a unique and informative section on 'repetitive stress disorder' for animators (mega-hurts), which will help make the entire process of animation a much more enjoyable and pain free experience for the long term professional. The appendix of the book includes a complete course structure, which educators and independent students may follow.
Get your copy while they're hot.
[tags]tony white, 2D animation, animation, pencils to pixels, digital animation[/tags]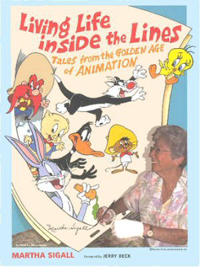 Looking for a great story from an animation legend? Look no further than Martha Sigall's "Life Inside the Lines: Tales from the Golden Age of Animation". Martha started as gopher at Leon Schlesinger's Pacific Art and Title when she was only 12 years old. She started painting animation cels when she was 15. This was a job that women were sometimes allowed to do in the animation studios of the 1930s. Certainly, none were allowed to be actual animators. From an interview at Comicon.com:
…in the very early days of animation, almost everything was done by men. Men even did the inking and the painting. It wasn't until the early '30s, at least in Hollywood, that women started doing these jobs. There was very much gender discrimination in the business at that time. Women were not allowed in the Animation Department, Layout, Story, and Camera departments. There were some women in the Background Department, but it really wasn't until World War II, when the men left for the service, that women were accepted into these other departments.
In "Living Life Inside the Lines", Martha provides an insider's view of the glory days of Warner Brothers animation:
She recounts her wild and wonderful experiences with the Warner Bros. cartoon crew, working and laughing all day with the animators, partying all night with the Looney Tunes gang on the bowling and baseball teams, and participating in weekend scavenger hunts. She was president of the in-house "Looney Tunes Club," co-wrote the company gossip column, and performed in the company's theatrical troupe.
This is a wonderful book for anyone interested in animation history. The book is widely available. Get your copy now.
[tags]Martha Sigall, Looney Tunes, Life Inside the Lines, 2D animation[/tags]

July 19, 2006 · Filed Under
Animation Library
·
Comments Off

on Outlaw Animation – Cutting-Edge Cartoons from the Spike and Mike Festivals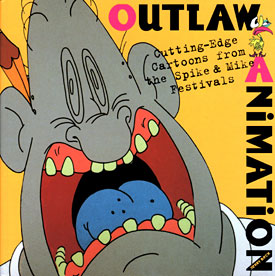 This is a must have book for your animation library. Outlaw Animation is a history of the first 25 years of the Spike and Mike Festival. The book is authored by Jerry Beck and Todd MacFarlane. The festival started as a barely noticed add-on to rock concerts to the premier showcase for new animators. Nick Park and Peter Lord of Aardman of Wallace and Gromit fame started here. Other notables include John Lasseter and Mike Judge. Besides being a wonderful compendium on the development of the modern indepedent cartoon, "Outlaw Animation" is a well told slice of history from 1977 to 2002. There are pictures galore including stills, behind the scenes shots and posters. Get your copy from our Animation Shop.
[tags]Outlaw Animation, Spike and Mike, Jerry Beck, Todd MacFarlane, animation festival, underground cartoons, 2D animation[/tags]

Dimples is all about 2D animation but if you look at the prospects for finding a good job in 2D animation in the US of A, you might think the prospects are poor. Every high profile project seems to be from the rubbery cupie doll world of 3D animation. But, where do those 3D characters start? They start as a 2D sketch. Character design begins with a 2D image and this is a career niche for folks like us. Dimples thinks that studios and other folks are beginning to realize that there is still a place for the well trained artist with a pencil and paper. They are the first step. Angie Jones and Jaimie Oliff have written a book that shows that a detailed knowledge and skill-base in 2D animation is essential for success in 3D anmation. Their book, "Thinking Animation", is an overview of all kinds of modern theatrical animation. Dimples loves it! You can order your copy here.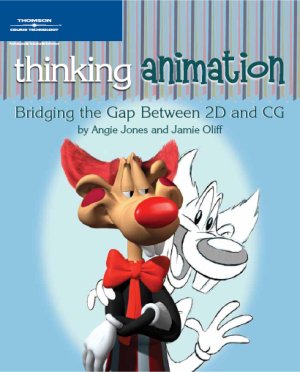 [tags]2D animation, 3D animation,cartoon,Angie Jones, Jamie Oliff, Thinking Animation, Animation books[/tags]