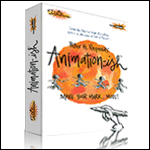 The great folks at ToonBoom have introduced a new 2D animation software package that anyone can use. It's called Animation-Ish. It's a cooperative venture with Peter H. Reynolds who writes and illustrates children's books. His message and the premise of the software is that a drawing doesn't have to look perfect to work. From ToonBoom:
Introducing the world′s easiest software program, designed to have your drawings up and moving in minutes! Created by Peter H. Reynolds, NYTimes Bestselling Author/Illustrator of The Dot, Ish, Someday, and the Judy Moody series, packed with Peter′s inspirational creativity tips and drawings, Animation-ish lets you design animations for movies, greeting cards, websites, presentations and school projects, and then share your creations with the world!
The price for an individual copy is only $59.95 US and that's one tremendous deal. Dimples uses ToonBoom's storyboard software and we love it. Thus, this software is probably created and published with the same attention to detail.
Dimples found a video on youtube with someone trying to use the program but it's not very informative. See below:
[youtube]http://www.youtube.com/watch?v=M5ItrGzrOHs[/youtube]
What's very interesting about this program is the ease and efficiency with which you can create simple animations and export them in a format you can share with others. Dimples thinks this makes the program an especially good deal for the weekend animator. From ToonBoom:
Top Program Features

Over 50 "Inspire Me" video clips from Peter H. Reynolds
3 animation skill-levels
"Project Vault" with Peter's drawings and starter ideas
"Share" feature for exporting into multiple formats
Online lessons from Peter and the animators of FableVision

"Waltz with Bashir" did not win the top prize at Cannes. In fact, it was totally stiffed by Sean Penn's jury. From Time:
Another surprising omission was the Israeli animated documentary Waltz With Bashir, which had critics cheering from Day Two, when it was unveiled, up to the announcement of the awards. At the post-Palmares press conference, Penn acknowledged that he wasn't pushing for Bashir, since there were so many other films that "called out and provoked us in a new way." He added, "I think it will find its audience without us," suggesting that the Jury wanted to give affirmative-action pushes to luminous films in need of the worldwide attention a Palme d'Or can bring.
I translate this as animation isn't serious film. Frankly, Dimples thinks this stinks.

From the BBC:
An animated documentary about a massacre in the Middle East is the current frontrunner to win the coveted Palme d'Or prize at the Cannes Film Festival.

Waltz with Bashir is a daring and provocative attempt by director Ari Folman to bear witness to an atrocity committed during his stint in the Israeli army in 1982.
Waltz with Bashir is 2D animation paired with 3D effects. Here's the official trailer:
[youtube]http://www.youtube.com/watch?v=ylzO9vbEpPg[/youtube]
It looks like a beautifully made movie.

Annecy is one of the greatest of all the animation festivals and it's coming next month from June 9 to June 14 in Annecy, FR. Every type of animation from short film to television to theatrical feature animation will be represented at Annecy. Toondra.com is offering a great sampling of some of the films at this year's Annecy Festival. Dimples is going to qualify this by saying that the Annecy site says the films are previewed on toondra.com but the toondra site seems to have only films from 2007. We're a bit confused but the animation is great and worth a look whether it is from this or last year's Annecy festival. Meanwhile back at dimples, here is a sampling of animation from Annecy 2006. Here is L'Enveloppe Jaune:
[youtube]http://www.youtube.com/watch?v=kUy1IN6m5Cg[/youtube]

Here's a huge dose of cuteness from Warner Brothers. "The Milky Way" was the first animated cartoon not made by Disney to win an Academy award. The story is based on a nursery rhyme classic about the three little kittens who lost their mittens. As you watch this notice the masterful use of squash and stretch. This cartoon and other classics are available on DVD in the Warner Brothers Academy Award Collection
.
[youtube]http://www.youtube.com/watch?v=QT75ktRVllg[/youtube]