There's a great interview with the greatest living animator, Hayao Miyazaki of Studio Ghibli, on CNN international. Talk about living legend, this man IS hand drawn 2D animation in today's world. He is the master of masters. He makes a sad prediction in the interview:
We are an extinct species maybe, an island of the Galapagos, and well, (hand drawing) is the only thing I'm interested in and therefore people who are not interested in working by hand should choose another place of work.
I hope he's wrong but I fear he's right.
The interview covers a wide range of topics from animation to the tsunami.
While on the topic, don't forget the latest release from Hayao Miyazaki and Studio Ghibli. It's Arrietty which is an animated version of an Mary Norton's The Borrowers.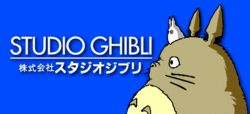 Hayao Miyazaki and his Studio Ghibli have released their first feature length animation in four years, Ponyo on the Cliff by the Sea. It's a mystery at Darling Dimples why we haven't posted about this animation giant before now. The work from this studio is held in the highest esteem by Dimples.
Ponyo on the Cliff by the Sea is the latest beautifully rendered theatrical animation form Studio Ghibli. Miyazaki said that his inspiration for the story came from Hans Christian Andersen's The Little Mermaid. Here's a trailer from the movie but, be forewarned, the song is one of those tunes that will haunt you for the rest of the day.

From the BBC:
An animated documentary about a massacre in the Middle East is the current frontrunner to win the coveted Palme d'Or prize at the Cannes Film Festival.

Waltz with Bashir is a daring and provocative attempt by director Ari Folman to bear witness to an atrocity committed during his stint in the Israeli army in 1982.
Waltz with Bashir is 2D animation paired with 3D effects. Here's the official trailer:
[youtube]http://www.youtube.com/watch?v=ylzO9vbEpPg[/youtube]
It looks like a beautifully made movie.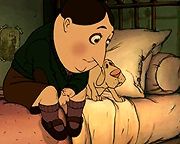 It's time to return to an animation style that pleases the dimpled team. While talking about Disney is necessary since they're the big dog, their animation style is not pleasing to us. We prefer less predictible and more interesting 2D animation story-telling. Our favorite animated theatrical feature in the modern era is "The Triplets of Belleville". It is simply spectacular. The dog, Bruno, in "Triplets" is one of the greatest animated characters in all of animation history. This is not hyperbole. There's not one false twitch in Bruno in the entire movie. Never before has a canine character been so believably animated. Bruno was brilliant. This is a list of the awards won by "Triplets":
2004 Academy Award Nominee – Best Animated Feature Film, Best Song
2003 Telluride Film Festival
2003 Toronto International Film Festival
2003 Boston Film Festival
2003 Chicago International Film Festival
2003 AFI Film Festival
"Triplets" is the brainchild of Sylvain Chomet. It took five years for Chomet and his team to complete "Triplets". From a BBC interview on the objective of the movie:
I wanted to do things in animation that hadn't been done before. It's a very rigid medium in what people think it should be. It's always got to be for kids. It should bring good feelings, have bad guys and good guys, and end with a moral. But this means there are lots of subjects and things you can't show, like someone smoking a cigarette for example. With "Belleville", the aim was to go against that, and do something that wasn't aimed at kids. It's great that kids can enjoy the film, but it freed us up to go in directions that the animated movie hasn't gone in before.
He succeeded in creating a masterpiece. In the same interview, Chomet comments on the use of CGI animation:
It was mainly to get rid of all the boring stuff. Objects, for example, always take a very long time to animate because they don't change as they move. We used CGI for the cars, the bicycles, the boats and the trains, and it meant the animators had more time for enjoyable elements like the character acting.
This is exactly how CGI should be used. CGI is for the "boring stuff'.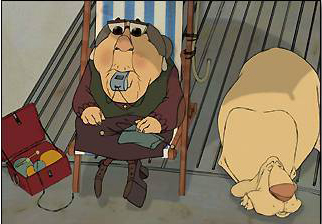 "The Triplets of Belleville" is widely available on DVD. It should be part of every animation lover's video library. Watch "Cars" and then watch "Triplets". It's a world of difference. "Cars" comes across like a soda cracker and water. "The Triplets of Bellville" is a feast.
[tags]Triplets of Bellville, 2D animation, Sylvain Chomet[/tags]

July 5, 2006 · Filed Under
Theatrical Animation
·
Comments Off

on Painted Animation – A Scanner Darkly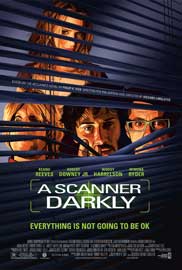 The more things change, the more they remain the same. Painted animation makes that point. In the 1920s, Max Fleischer created Koko the Clown by filming his brother dancing around in his clown outfit. Basically, he traced the character from the film and filled in the drawings with ink. This was crude "painted animation".
This week the full length painted animation feature, "A Scanner Darkly", opens nationwide. In this modern version of the technique, the film was shot as you would a normal movie. The print was transferred to the computer and laboriously painted to give an animated comic book effect. In essence, CG animation meets Max Fleischer and Koko the Clown. Who says 2D animation is dead? A detailed explanation of the painted animation process is available here.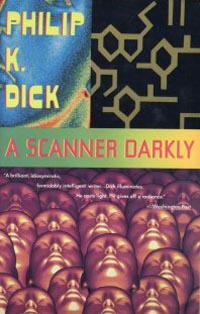 There are two great things about this movie. First of all, it's made from a Philip K. Dick story. If you haven't read his stories, you should. He's a very interesting character. His later books were weak but, by that stage of his short life, his mind was an EPA superfund site. "A Scanner Darkly" was published in 1977 and was probably written at the peak of his career. Philip K. Dick was the ultimate paranoid living in a paranoid time and paranoia makes for good stories. After all, if you want to hold the attention of an audience, everyone better be out to get ya and everyone IS ALWAYS out to get you in a Dick book. Painted animation is uniquely suited to capturing the paranoid chemical soup of the original novel. And, secondly, it's 2D animation. This Dimpled guy can't wait to see the movie.
[tags]A Scanner Darkly, painted animation, 2D animation, Philip K. Dick[/tags]