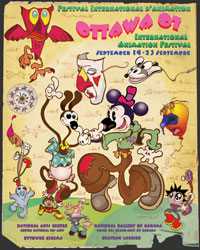 This is one great Animation Festival. Ottawa International Animation Festival, Sept. 19 – Sept. 23, 2007, is heralded as the biggest event of its kind in North America. Entry forms for the festival became available on March 21st. The deadline for entry form submission is June 1 and video must be in by June 15. The festival offers a wide variety of categories for your submission running the gamit from theatrical feature to school showreel. There's even a separate category for high school students to submit their films. A great way to keep up to date on the happenings leading up to and during the festival is through their podcasts. From their press release:
"It's that time again," says Chris Robinson, the Festival's Artistic Director. "This year we're putting some emphasis on reaching out to the gaming, mobile, wireless and interactive world. With more and more animation being made for non-traditional distribution platforms, it's important that the OIAF celebrate the work being done in these new forms, so we've expanded our New Media Competition to include mobile content and interactive educational and gaming animation as well as shorts made for the internet."
This is a great event and Ottawa is a beautiful city. Make your reservations to attend now.
[tags]OIAF, Ottawa International Animation Festival, Animation[/tags]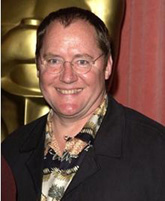 Disney continues the return to 2D hand-drawn animation under John Lasseter. Neither Disney suit Execs nor Lasseter have provided the reason for the full steam ahead return to traditional animation by the southern California arm of the company but Dimples is happy to see the trend continue. From FilmStew.com:
Chief Creative Officer and Walt Disney Feature Animation boss John Lasseter had an unveiling for Disney stockholders this week as they met in New Orleans. The shareholders got a first look at preliminary work on The Frog Princess, a return to traditional animation whose main character is not the typical Disney heroine. The film will be a musical comedy set in New Orleans and will be centered on a character that the execs call 'The Newest Disney Princess', a young African American girl named Maddy, who will be joining the studio's franchise line of Disney princesses. The movie will be directed by John Musker and Ron Clements, directors of Aladdin, The Little Mermaid and Hercules. Those animators left the Disney fold several years ago, as the studio was turning away from 2-D traditional animation. But one of John Lasseter's earliest acts as the new head of Disney Animation was to lure them back. Look for the film's release in 2009, at which time you can enjoy the score by Randy Newman.
[tags]2D Animation, Disney, John Lasseter, Frog Princess, John Musker[/tags]

March 1, 2007 · Filed Under
Animation News
·
Comments Off

on Toonbreak – A better place to show off your animation!
There's a new player in the animation portal game: ToonBreak. Aniboom has been a great success but, as you cruise the site, you get the feeling that a whole lot of talented people are doing a whole lot of work without hope for a financial return. Let's face it: Contests are cheap. Sharing the revenue with contributors is a better way to run an animation portal. This is exactly what ToonBreak is proposing. From their press release:
ToonBreak.com is a new animation video portal that shares revenue with animators. The brainchild of independent animator Shawn McInerney, ToonBreak is unique in that provides multiple tools for animators to generate revenue. Animators can earn money through video ads, text ads, merchandising, and donations. All of this is currently done through third party systems such as Revver, Google Adsense, PayPal Donations, and links to the animators' online stores. ToonBreak's deal is non-exclusive, and does not seek rights beyond those needed to show and generate revenue from the videos.
That sounds like a much better deal than anything currently offered by Aniboom. For a taste of Shawn McInerney's work, check out this Channel Frederator video podcast.
What's your opinion? Cast your vote in the poll in the column to the right of this post.
[tags]toonbreak.com, toonbreak, animation news, Shawn McInerney[/tags]