Some folks are beginning to realize that classic 2D animation has a charm and visual appeal that is unique. One of the giants of Disney Animation, Mark Henn, has given an interview about the upcoming 2D animated feature on A.A. Milne's classic Winnie the Pooh.
Classic animation techniques work best with these characters and in evoking the sensibility of the famous E.H. Shepard illustrations contained in the original books.

"We didn't have any great debate here," Henn says.

"I think everyone realized, when this project came up, [that] doing it by hand was the best way."
Doing it by hand is almost always the best way!

August 2, 2008 · Filed Under
Classic Animation
·
Comments Off

on In My Merry Oldsmobile – Classic 1932 Cartoon Animation
Here's a true gem from Max Fleischer and the early days of animation. Oldmobiles may be no more but Fleischer's animation will live forever. When people complain about product placements in today's films, remind them that it was even worse in the 1930s.

June 7, 2008 · Filed Under
Classic Animation
,
Disney
·
Comments Off

on The First Official Disney Goofy Cartoon from 1939
Here's a brilliant piece of animation history. Disney's Goofy character was originally called Dippy Dawg. He was re-named Goofy and this is his first cartoon under that name. Called "Goofy and Wilbur", the cartoon was released in 1939.
[youtube]http://www.youtube.com/watch?v=osDN8zHZlQQ[/youtube]

Bugville
, also known as "Hoppity Goes to Town", is a great classic cartoon from Fleischer Studios and it is now available on DVD. It has all of the imagination, color and fluidity of classic 2D animation that we love at Dimples. We've moved it to the top of our Netflix queue but it is also available at a great price from Amazon through the link in this post. On Netflix, Bugville is listed in the New Release section under Classics. Hopefully, more of the late Fleischer brother's animation will be released on DVD.
[dailymotion]http://www.dailymotion.com/video/x1heap_hoppity-goes-to-town_shortfilms[/dailymotion]

As long as it's the time of year when the Oscars are awarded, Dimples thought it would be a good idea to look back on all of the winners for best animated short film. We've provided a list here. To start things off, here's the very first cartoon honored by the Academy in this category. It's Walt Disney's Silly Symphony — Flowers and trees.

November 12, 2006 · Filed Under
Classic Animation
·
Comments Off

on Van Beuren Studios 1929-1936 Home of Tom and Jerry
Not that Tom and Jerry. This Tom and Jerry: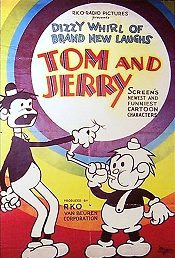 Tom and Jerry were characters in a cartoon series from Van Beuren Studios from 1931-1933. The series was directed by John Foster, George Stallings and George Rufle and Frank Sherman. During the Van Beuren period, twenty-six cartoon shorts were made with these characters. An excellent synopsis of the original Tom and Jerry is available on-line from David Gerstein and Pietro Shakarian at
cartoonresearch.com
.
Dimples loves these classic animated characters from the 1930s because they are an excellent example of the drawing style that pleases us. These cartoons are also noteworthy for their storylines which adopted increasingly surreal qualities. Cartoons should get crazy and these cartoons were that and more.
It is difficult to find examples of Tom and Jerry on DVD today but many of the characters that originated at Van Beuren Studios are available on the Golden Age of Cartoons series. This is a must have collection if you're obsessed with the 1930s as we are here at the Dimples sanitarium.
[tags]2D animation, Van Beuren Studios, 1930s animation, Tom and Jerry[/tags]