Joanna Quinn is one of our all time favorite animators and we've profiled her Dreams and Desires short film previously. It keeps on winning award after award for Quinn and Beryl Productions International. She shared the award with another Dimples' favorite, T.O.M., from Tom Brown and Daniel Gray. Tom and Daniel have been kind enough to post on Dimples from time to time. From IC Network:
Dreams and Desires – Family Ties (Beryl, Y Briodas a'r Fideo), a co-production between S4C and Quinn's company, Beryl Productions International, jointly won the Public Choice 2008 prize at the British Animation Awards.

Quinn shared the award with fellow Welsh entry, t.o.m., a short film by Tom Brown and Daniel Gray, produced at the International Film School of Wales, Newport.
Here's a YouTube clip of Dreams and Desires:
[youtube]http://www.youtube.com/watch?v=DUu3rkjkUWQ[/youtube]
And, here is her fantastic demo reel:
[youtube]http://www.youtube.com/watch?v=IcFlFaoLuUY[/youtube]
Finally, a very short clip from T.O.M.:
[youtube]http://www.youtube.com/watch?v=08I5YrqD5EU[/youtube]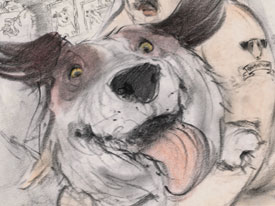 Our love affair with Joanna Quinn is almost unseemly. We can't get enough of her drawing. There's an interesting article in Animation World Magazine on a forum at Bristol where Quinn and her partner, Mills, discuss their work at Beryl Productions. From the Animation World article:
Quinn and Mills were surprisingly frank about their different strengths and weaknesses, and their points of disagreement (Mills, we learned, was particularly disappointed by the "dumpy mongrel" dog who plays a big part in Family Ties).
Dimples hasn't seen Dreams and Desires – Family Ties and can't comment on the acting of the "dumpy mongrel". However, judging from the drawing of the dog shown above, we love him. We're animal lovers at Dimples and one of us has a dog with that precise exhuberant expression of joy. Joanna Quinn has expertly captured "dog soul" in this drawing.
Read our earlier post on Daniel and Tom's animation win (T.O.M.) at Bristol 2006 for a comment from Daniel saying that they're going to be at Sundance along with Joanna Quinn.
[tags]2D animation, Bristol 2006, Joanna Quinn, Beryl Productions[/tags]


Joanna Quinn and her studio partner Les Mills are winning awards all over the place for their latest animated adventure, "Dreams and Desires: Family Ties", starring Quinn's Beryl character.
BERYL is an unlikely hero. Middle-aged, not beautiful, overweight and an underdog…

The award-winning new film Dreams and Desires – Family Ties follows Beryl as she explores more about her life and it is seemingly a welcome return to the character who became popular after outings in Girls' Night Out and Body Beautiful.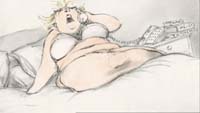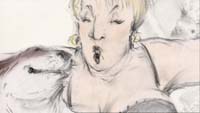 In the past four months, Dreams and Desires has won 14 major awards and it looks like there are more to come. It's hard to beat that.
Here's a picture of Quinn with Bill Plympton.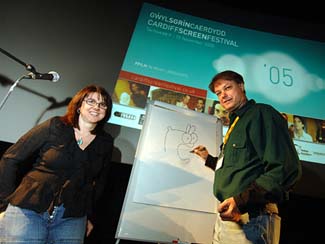 Quinn is best known in the States for her Charmin commercials but, as you can see, that's only the tip of the iceberg with this extremely talented animator. You can own a little bit of Joanna Quinn's art. The Adventures of the Charmin Bear
is a children's book based on the character in her commericials and Britannia
is a DVD where Quinn tells the story of the British empire through the antics of a bulldog. Enjoy.[tags]2D animation, Joanna Quinn, Beryl Productions, Dreams and Desires, Swansea Animation Days 2006[/tags]