June 14, 2006 · Filed Under
Catastrophes
·
Comments Off

on Total Motherboard Meltdown
That's all folks, as Porky Pig would say. Dimples wanted to let you know that we haven't been mugged and left for dead in NY's subway system. We suffered a total motherboard meltdown that also fried the hard drives and, no, not everything was backed up. We had just purchased a 250 GB external drive for a complete backup but we didn't do it in time. The Dimples' team has learned a lesson and will never buy an MSI motherboard again. Apparently, there was a lawsuit and settlement involving capacitor failure. If the board had failed before Feb 2006 then we could have recovered all of our costs for repair and replacement. In the past we would have relied upon our favorite techno-geek pal to bail us out but he re-located to Cal-Tech in May. Damn, we miss him. We miss watching Looney Toons on his phone. We miss our giant black box of a computer and we miss the series of animation lessons and demonstration movies that we had prepared to upload to this site. Bear with us for a few days, we should be back to our regular posting habits by this weekend.

June 9, 2006 · Filed Under
Animation News
·
Comments Off

on Mocca Arts Festival this Weekend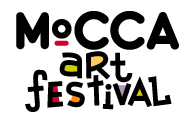 If you're in New York City this weekend, make time for Mocca.
"Meet comics and cartoon artists! Get sketches and autographs from Gahan Wilson, Joe Staton, Fly, Paolo Rivera and others at the MoCCA Fundraising Sketch Table! Buy comics, comix, cartoons, graphic novels as well as prints and original artwork! Sit in on our always entertaining and educational panel sessions! "
Mocca along with the Small Press Expo in San Francisco are absolutely the best conventions for finding strange things and strange people.
[tags]Mocca, art festival, cartoon, comic[/tags]

June 8, 2006 · Filed Under
Classic Animation
·
Comments Off

on Eat Your Spinach – Popeye's comin' back!
Ah, spinach, it was the Viagra of the 1930s. Fleischer and Famous Studios took Popeye from comic strip to theatrical cartoon. Various legal battles have kept vintage Popeye cartoons in the can, so to speak, but the parties involved have reached an agreement and Popeye will be available on DVD in 2007.
Here's the old sea salt getting ready to down a can of spinach.
And, here's Popeye after the spinach has worked its magic.
[tags]Popeye, Popeye the Sailorman, Max Fleischer, Warner Home Video, 2D animation, cartoon, theatrical cartoon[/tags]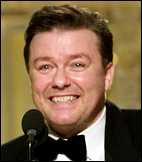 UK comic Ricky Gervais is a busy man. He's responsible for the television series "The Office" and "Extras". He does radio, stand-up and pod-casts and recently he did "The Simpsons". On the side, he's created a series of playful monsters in his children's books called "Flanimals". These creatures are about to become a new animated cartoon feature on ITV1 in the UK. Meet some of the Flanimals. This is Plamgotis.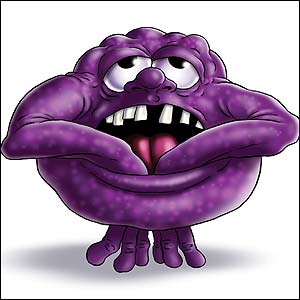 This lovely guy is Clunge Ambler.
Needing a good dentist is Grundit.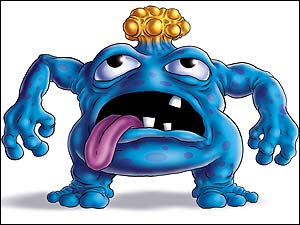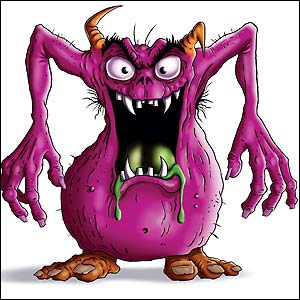 The Dimples team senses the beginning of a great cartoon as well as a massive action figure marketing empire.
[tags]Ricky Gervais, Flanimals, 2D animation, animation, children's books, cartoons, The Simpsons[/tags]


Dimples came across Chris Georgenes brilliant Flash Animation tutorial on the old Macromedia site last year. Even if you never intend to use Flash as your animation tool, his lessons will help you. In simple clear language, he teaches attention to detail and flare that make every character special. Unfortunately, it doesn't appear that the original video tutorial is still available on the new Adobe site but a text tutorial is availble here. Chris has an unreal portfolio site that can be viewed here.
Dimples defies anyone to look at these animations and not grin ear to ear. Although very simple, his animated condom is full of personality.

This is a peek at Mr. Condom used in a simple ad but you need to see the animation to fully appreciate the character Chris puts in his work. We can't help but notice the resemblance between Chris and Mr. Condom. Self portrait? Dimples wishes there was more that we could show here but everything is on his two websites linked above. Take a look at the work of a really funny and a really smart animator, Chris Georgenes.
[tags]Chris Georgenes, Flash animation, animator, cartoon, 2D animation, 3D animation[/tags]


Gitanjali Rao graduated from art school in 1994 and went on to intern with Indian Animator Ram Mohan. She wrote, drew, directed and produced a fifteen minute animated film, "Printed Rainbow", that was selected in the short film category at Cannes in 2006.
Rao's first film was "Orange" which did not make it through the strict Indian censorship policies. The style of "Orange" is reflective of her day job creating animated commercials.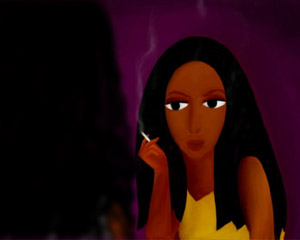 The story concept for her Cannes selection, "Printed Rainbow", is fascinating. From Television Point:
This 15-minute short film is about a woman in Mumbai, who lives all alone with just a cat for company. "She is an avid collector of match box covers. This leads to a dream world where she does adventurous things. From one matchbox to another, she goes on weaving her adventures along with her cat. Finally she comes back to reality," explains Gitanjali. The film has no narration and is a visual rendition of the woman. "Each frame is painted. I had to do it myself because it's experimental animation. I have shot the first part of the film in black and white to show the dreary existence of this woman. The rest of it is in a myriad of colours. I am so excited that it has been selected and that too for Cannes," says Gitanjali.
Observe the contrast in the image below from "Printed Rainbow" between the woman in black and white and the brightly colored matchbox.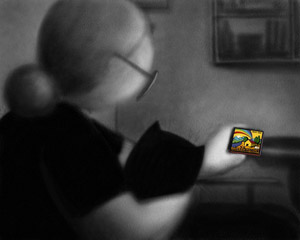 And, the bright world of the matchbox comes alive in this still from the movie.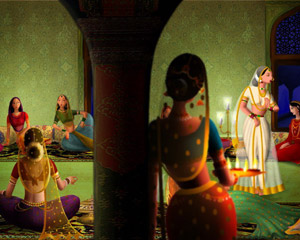 The Dimples team hasn't seen this movie but we love the concept and the stills. We're sure that there is much more to come from Gitanjali Rao. And, for a final tantalizing sample, here is a still from another short film, "Blue".
[tags]Gitanjali Rao, 2D animation, animation, Cannes, India, animation news[/tags]