Bill Plympton is one of our all-time favorite animators and he has a Kickstarter project with 3 days to go.


There's a great interview with the greatest living animator, Hayao Miyazaki of Studio Ghibli, on CNN international. Talk about living legend, this man IS hand drawn 2D animation in today's world. He is the master of masters. He makes a sad prediction in the interview:
We are an extinct species maybe, an island of the Galapagos, and well, (hand drawing) is the only thing I'm interested in and therefore people who are not interested in working by hand should choose another place of work.
I hope he's wrong but I fear he's right.
The interview covers a wide range of topics from animation to the tsunami.
While on the topic, don't forget the latest release from Hayao Miyazaki and Studio Ghibli. It's Arrietty which is an animated version of an Mary Norton's The Borrowers.

Some folks are beginning to realize that classic 2D animation has a charm and visual appeal that is unique. One of the giants of Disney Animation, Mark Henn, has given an interview about the upcoming 2D animated feature on A.A. Milne's classic Winnie the Pooh.
Classic animation techniques work best with these characters and in evoking the sensibility of the famous E.H. Shepard illustrations contained in the original books.

"We didn't have any great debate here," Henn says.

"I think everyone realized, when this project came up, [that] doing it by hand was the best way."
Doing it by hand is almost always the best way!

Joanna Quinn is one of our all time favorite animators and we've profiled her Dreams and Desires short film previously. It keeps on winning award after award for Quinn and Beryl Productions International. She shared the award with another Dimples' favorite, T.O.M., from Tom Brown and Daniel Gray. Tom and Daniel have been kind enough to post on Dimples from time to time. From IC Network:
Dreams and Desires – Family Ties (Beryl, Y Briodas a'r Fideo), a co-production between S4C and Quinn's company, Beryl Productions International, jointly won the Public Choice 2008 prize at the British Animation Awards.

Quinn shared the award with fellow Welsh entry, t.o.m., a short film by Tom Brown and Daniel Gray, produced at the International Film School of Wales, Newport.
Here's a YouTube clip of Dreams and Desires:
[youtube]http://www.youtube.com/watch?v=DUu3rkjkUWQ[/youtube]
And, here is her fantastic demo reel:
[youtube]http://www.youtube.com/watch?v=IcFlFaoLuUY[/youtube]
Finally, a very short clip from T.O.M.:
[youtube]http://www.youtube.com/watch?v=08I5YrqD5EU[/youtube]


Joanna Quinn and her studio partner Les Mills are winning awards all over the place for their latest animated adventure, "Dreams and Desires: Family Ties", starring Quinn's Beryl character.
BERYL is an unlikely hero. Middle-aged, not beautiful, overweight and an underdog…

The award-winning new film Dreams and Desires – Family Ties follows Beryl as she explores more about her life and it is seemingly a welcome return to the character who became popular after outings in Girls' Night Out and Body Beautiful.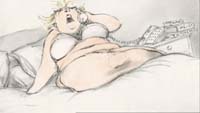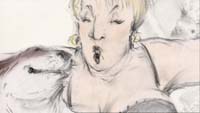 In the past four months, Dreams and Desires has won 14 major awards and it looks like there are more to come. It's hard to beat that.
Here's a picture of Quinn with Bill Plympton.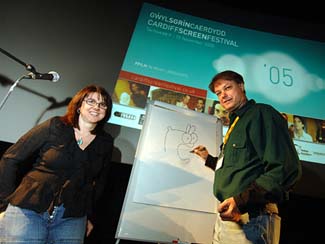 Quinn is best known in the States for her Charmin commercials but, as you can see, that's only the tip of the iceberg with this extremely talented animator. You can own a little bit of Joanna Quinn's art. The Adventures of the Charmin Bear
is a children's book based on the character in her commericials and Britannia
is a DVD where Quinn tells the story of the British empire through the antics of a bulldog. Enjoy.[tags]2D animation, Joanna Quinn, Beryl Productions, Dreams and Desires, Swansea Animation Days 2006[/tags]

July 6, 2006 · Filed Under
Animation Stars
·
Comments Off

on Grim Natwick – The Creator of Betty Boop

It's about time the Dimples team got back to good ol' black and white, hand-drawn, vintage animation. And, there's no better way to get there than with Grim Natwick, one of the greatest animators that ever lived.
Natwick was a master of every style imaginable. In his long career he worked for Ub Iwerks, Walt Disney where he animated Snow White and the immortal Mickey Mouse as seen in Fantasia, Walter Lantz, UPA and the Richard Williams crew. How was it possible for one person to excel and dominate so many different animation styles? Like many super successful hard working artists, Mr. Natwick lived a very long time. Read this interview done when he was 97 years old. He's as sharp as any young man in his mid-twenties could hope to be. What a marvel! He lived to be over 100 years old.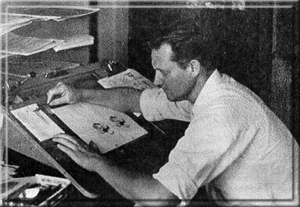 His given name was actually Myron but he earned the name Grim for being perpetually upbeat. He was a poet and a highschool football star. In fact, he was such a good athelete that he was invited to the 1908 Olympics.
I was recently reading a Daniel Clowes comic that challenged the reader to name one other person's life that you would like to lead. He said if you did enough research you would find out that no one's life was worth living. I think I might find Grim Natwick's life very much worth living.
[tags]Grim Natwick, Betty Boop, vintage animation, Snow White and the Seven Dwarfs, Fantasia[/tags]