All folks in one of the most wonderful spots on this planet, Australia, listen up. You're in for a treat next week as the Australian International Animation Festival comes to Southern Cross University, Lismore, September 14-15. From the Northern Rivers Echo News:
The films have been sourced from American, European and Asian festivals and with 17 sessions over two days, including a special schools program next Friday, September 14, there's sure to be something for everyone.

Meanwhile, a master class on Saturday, September 15, will see one of Australia's most accomplished animators/directors, Tim Adlide, give the low down on how to bring your animation to life – whether you're working with flash cartoons, motion graphics, stop motion or 3-D CGI.
Dimples wants to call attention to Tim Adlide's forum which will be fantastic. He's fantastic and he's a hero to more than one of the Dimple's team. He creates wonderful characters. Tim is giving a "master class" in creating flow effects in Flash at 3:10 pm on September 15. Don't miss it. From the AIAF website:
Tim who will demonstrate the creation of "flow" effects for simulating wind, water and/or cloth waves using Flash. This is an advanced class for the adult audience already familiar with Flash.
Dimples sure wishes they could hop on a magic bus and be there, but, alas, we can't. We'd love to hear from anyone who is able to attend this event.
[tags]Animation, 2D Animation, Flash Animation, AIAF, Australian International Animation Festival, Tim Adlide[/tags]

February 11, 2007 · Filed Under
Flash Animation
·
Comments Off

on Flash Animator – Billy Bob at BillyBlob.com – Good Karma

Dimples just ran across a fascinating web site: billyblob.com. This site is the creation of some guy who is supposedly named Billy Bob. He created a flash cartoon, Karma Ghost, that made it to Sundance a few years ago. Besides cartoons, his site includes a gallery of some fine paintings. Take a look. There's quite a bit going on at billyblob.com. A quick google didn't turn up any personal information on Billy Bob. Dimples would appreciate any scoop you might be able to provide.
[tags]2D animation, flash animation, billy bob, billyblob.com[/tags]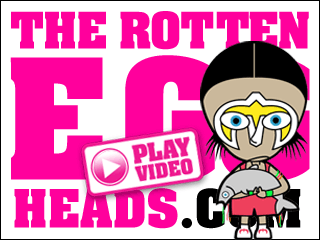 The Rotten Eggheads is an animated on-line series from MTV about five characters with large heads. Dimples has to admit that before seeing this contest, we didn't know that this cartoon series existed. The webpage says that The Rotten Eggheads are part of MTV's European programming. This is from the contest rules:
the rotten eggheads – five unique characters starring in the homonymous open end animation series known from the mtv load project and honoured with numerous awards. the starring characters have two things in common: an enormous egghead and a fragile fate.
at the end of each episode at least one egghead breaks. a new episode of this series goes online on www.therotteneggheads.com every friday themed: "weak! every week!".
The entry should be an entire episode of the Egghead series in cut-out style Flash animation. The prizes are as follows:
your ideas are worth cash! the designer of the best episode will earn 3000 USD and as the winner doesn't take it all, the second prize is endowed with 1000 USD. the third place will still be rewarded with remarkable 500 USD.
The entry deadline for uploading your cartoon episode is September 30, 2006. The call for entries went out in July. Frankly, that's not much time to create an entire episode. Templates to start your entry are available here.
[tags]the rotten eggheads, 2D animation, animation contest, flash animation, MTV[/tags]

August 29, 2006 · Filed Under
Flash Animation
·
Comments Off

on David Demorest – Artist and Flash Animator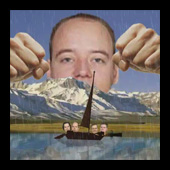 David Demorest creates some great flash animations. He's a graduate of the animation program at Sheridan College in Canada. Dimples thinks that program is one of the best there is and David is doing them proud. His flash animations contain funny clever characters and beautiful movement. Dimples loves this head-on alien walk. David lives in Utah and works creating animations for children's software.

August 23, 2006 · Filed Under
Flash Animation
·
Comments Off

on Mark Fiore – Editorial Flash Animator

Mark Fiore is one of our favorite animators. His cartoons are always funny, always hit the mark and are extremely well executed. He started out as a traditional editorial cartoonist but switched to flash animation in 2001 and hasn't looked back since. You can see his work on the San Francisco Chronicle web site. The current cartoon on global warming is must see flash animation.
[tags]mark fiore, flash animation, 2D animation, editorial cartoon[/tags]

Our favorite flash animator, Chris Georgenes, is one of the finalists in the cartoon category in the Austin 2006 Flashforward Film Festival. Dimples liked all of the finalists. When flash animation is done well, it's nearly as good as some of the best hand-drawn animation. Unfortunately, most of it looks like the frozen figures with moving lips that dominate the Cartoon Network. The winners will be announced in September 2006. You can vote on-line for the people's choice award here.
[tags]2D animation, flash animation, flashforward film festival[/tags]