The 12th Bristol International Short Film Festival was held in Bristol, UK last week. Bristol is always an interesting festival for animation fans. This year was no exception. Many of this year's films will be available for viewing on BBC-3 after Dec. 8th. One of the films winning an award this year is an intriguing student animation from Daniel Gray and Tom Brown called "T.O.M.". The short animated film won the Cartoon D'Or Nomination. It's not entirely clear what that award is but winning this award puts Daniel and Tom's film made at the University of Wales in the running for further more prestigious European awards. From their web page:
News from Bristol's Encounter Festival is that we didn't win our category. We did how ever win the British nomination to the Cartoon D'or, which was a complete suprise because we didn't even know we were in that section. So we come away with something pretty cool.
"T.O.M." looks more than pretty cool to us here at Dimples' central command center. They've created a myspace page for their film and you can view the trailer there.
[tags]2D animation, Bristol Film Festival, Cartoon D'or, Daniel Gray, Tom Brown, T.O.M.[/tags]


Joanna Quinn and her studio partner Les Mills are winning awards all over the place for their latest animated adventure, "Dreams and Desires: Family Ties", starring Quinn's Beryl character.
BERYL is an unlikely hero. Middle-aged, not beautiful, overweight and an underdog…

The award-winning new film Dreams and Desires – Family Ties follows Beryl as she explores more about her life and it is seemingly a welcome return to the character who became popular after outings in Girls' Night Out and Body Beautiful.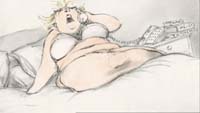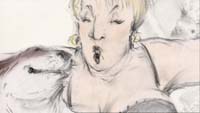 In the past four months, Dreams and Desires has won 14 major awards and it looks like there are more to come. It's hard to beat that.
Here's a picture of Quinn with Bill Plympton.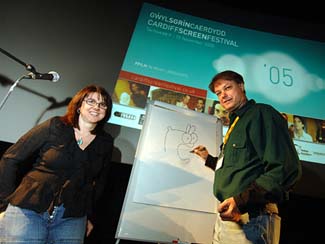 Quinn is best known in the States for her Charmin commercials but, as you can see, that's only the tip of the iceberg with this extremely talented animator. You can own a little bit of Joanna Quinn's art. The Adventures of the Charmin Bear
is a children's book based on the character in her commericials and Britannia
is a DVD where Quinn tells the story of the British empire through the antics of a bulldog. Enjoy.[tags]2D animation, Joanna Quinn, Beryl Productions, Dreams and Desires, Swansea Animation Days 2006[/tags]

November 12, 2006 · Filed Under
Classic Animation
·
Comments Off

on Van Beuren Studios 1929-1936 Home of Tom and Jerry
Not that Tom and Jerry. This Tom and Jerry: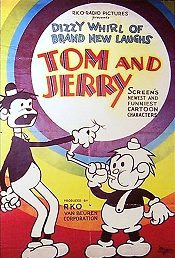 Tom and Jerry were characters in a cartoon series from Van Beuren Studios from 1931-1933. The series was directed by John Foster, George Stallings and George Rufle and Frank Sherman. During the Van Beuren period, twenty-six cartoon shorts were made with these characters. An excellent synopsis of the original Tom and Jerry is available on-line from David Gerstein and Pietro Shakarian at
cartoonresearch.com
.
Dimples loves these classic animated characters from the 1930s because they are an excellent example of the drawing style that pleases us. These cartoons are also noteworthy for their storylines which adopted increasingly surreal qualities. Cartoons should get crazy and these cartoons were that and more.
It is difficult to find examples of Tom and Jerry on DVD today but many of the characters that originated at Van Beuren Studios are available on the Golden Age of Cartoons series. This is a must have collection if you're obsessed with the 1930s as we are here at the Dimples sanitarium.
[tags]2D animation, Van Beuren Studios, 1930s animation, Tom and Jerry[/tags]