"Waltz with Bashir" did not win the top prize at Cannes. In fact, it was totally stiffed by Sean Penn's jury. From Time:
Another surprising omission was the Israeli animated documentary Waltz With Bashir, which had critics cheering from Day Two, when it was unveiled, up to the announcement of the awards. At the post-Palmares press conference, Penn acknowledged that he wasn't pushing for Bashir, since there were so many other films that "called out and provoked us in a new way." He added, "I think it will find its audience without us," suggesting that the Jury wanted to give affirmative-action pushes to luminous films in need of the worldwide attention a Palme d'Or can bring.
I translate this as animation isn't serious film. Frankly, Dimples thinks this stinks.

From the BBC:
An animated documentary about a massacre in the Middle East is the current frontrunner to win the coveted Palme d'Or prize at the Cannes Film Festival.

Waltz with Bashir is a daring and provocative attempt by director Ari Folman to bear witness to an atrocity committed during his stint in the Israeli army in 1982.
Waltz with Bashir is 2D animation paired with 3D effects. Here's the official trailer:
[youtube]http://www.youtube.com/watch?v=ylzO9vbEpPg[/youtube]
It looks like a beautifully made movie.

Annecy is one of the greatest of all the animation festivals and it's coming next month from June 9 to June 14 in Annecy, FR. Every type of animation from short film to television to theatrical feature animation will be represented at Annecy. Toondra.com is offering a great sampling of some of the films at this year's Annecy Festival. Dimples is going to qualify this by saying that the Annecy site says the films are previewed on toondra.com but the toondra site seems to have only films from 2007. We're a bit confused but the animation is great and worth a look whether it is from this or last year's Annecy festival. Meanwhile back at dimples, here is a sampling of animation from Annecy 2006. Here is L'Enveloppe Jaune:
[youtube]http://www.youtube.com/watch?v=kUy1IN6m5Cg[/youtube]


All folks in one of the most wonderful spots on this planet, Australia, listen up. You're in for a treat next week as the Australian International Animation Festival comes to Southern Cross University, Lismore, September 14-15. From the Northern Rivers Echo News:
The films have been sourced from American, European and Asian festivals and with 17 sessions over two days, including a special schools program next Friday, September 14, there's sure to be something for everyone.

Meanwhile, a master class on Saturday, September 15, will see one of Australia's most accomplished animators/directors, Tim Adlide, give the low down on how to bring your animation to life – whether you're working with flash cartoons, motion graphics, stop motion or 3-D CGI.
Dimples wants to call attention to Tim Adlide's forum which will be fantastic. He's fantastic and he's a hero to more than one of the Dimple's team. He creates wonderful characters. Tim is giving a "master class" in creating flow effects in Flash at 3:10 pm on September 15. Don't miss it. From the AIAF website:
Tim who will demonstrate the creation of "flow" effects for simulating wind, water and/or cloth waves using Flash. This is an advanced class for the adult audience already familiar with Flash.
Dimples sure wishes they could hop on a magic bus and be there, but, alas, we can't. We'd love to hear from anyone who is able to attend this event.
[tags]Animation, 2D Animation, Flash Animation, AIAF, Australian International Animation Festival, Tim Adlide[/tags]

Check out this clip of Don Hertzfeldt in Portland.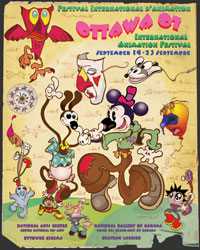 This is one great Animation Festival. Ottawa International Animation Festival, Sept. 19 – Sept. 23, 2007, is heralded as the biggest event of its kind in North America. Entry forms for the festival became available on March 21st. The deadline for entry form submission is June 1 and video must be in by June 15. The festival offers a wide variety of categories for your submission running the gamit from theatrical feature to school showreel. There's even a separate category for high school students to submit their films. A great way to keep up to date on the happenings leading up to and during the festival is through their podcasts. From their press release:
"It's that time again," says Chris Robinson, the Festival's Artistic Director. "This year we're putting some emphasis on reaching out to the gaming, mobile, wireless and interactive world. With more and more animation being made for non-traditional distribution platforms, it's important that the OIAF celebrate the work being done in these new forms, so we've expanded our New Media Competition to include mobile content and interactive educational and gaming animation as well as shorts made for the internet."
This is a great event and Ottawa is a beautiful city. Make your reservations to attend now.
[tags]OIAF, Ottawa International Animation Festival, Animation[/tags]