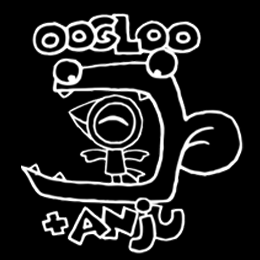 Sometimes, it seems as though some of the best animation around is found in commercial advertising. One of the characters that tickles Dimples is Mr. Mucus from Mucinex. Mr. Mucus is a product of Ka-Chew! which is the commercial division of Klasky-Csupo. They're the production studio that brought you the first three seasons of the Simpsons as well as the Rugrats among many others. While we generally don't care for the rubbery feel of 3D animation, Mr. Mucus is a perfect use of 3D animation. He really looks like mucus. Perhaps we should stop calling 3D animation rubbery and start calling it phlegmy. Enough of this digression in the world of 3D, our obscure point is that often it's the commercial advertising revenue that pays the bills allowing more interesting animation work to prosper. Among the many projects at Kachew!, the one that interests Dimples the most is the 2D animated Oogloo + Anju created for the Cartoon Network and directed by Ariel Martian. This very funny cartoon has the look and feel of the animation we live for at Dimple central and it seems that this is exactly the look that Ariel Martian sought to achieve:
It's a sloth eat bird ice-cream world…and my network animation debut! I was going for a kinda Fleisher brothers feel with a little Pac-Man thrown in.
Take a look at Ariel Martin's website. She's definitely got a few things banging around in her head. And, don't forget to try and catch Oogloo+Anju.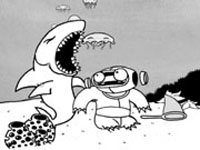 [tags]2D animation, 3D animation, Ariel Martin, Oogloo+Anju, Kachew!, Klasky-Csupo[/tags]

Nickelodeon has released its official 2007/08 list of shows. A new 2D animated cartoon offering will be the "Mighty B" created (concept-wise) and voiced by Amy Poehler from Saturday Night Live. From Starpulse:
"Mighty B," picked up for 20 episodes, stars Amy Poehler as the voice of Bessie Higgenbottom, the world's most ambitious and lovably unhinged 10-year-old "Honeybee" scout. As a member of the Honeybees, Bessie wears her uniform every single day, leads her troop with a zeal General Patton would have admired and has earned more Bee Badges than any Honeybee in history. But a bunch of badges still elude her, and Bessie's not stopping until she has every last one.
The cartoonists collaborating on the concept for "Mighty B" are Cynthia True and Erik Wiese. From Zap2it:
Poehler co-created the cartoon with "The Fairly OddParents" staff writer Cynthia True and the Emmy- and Annie-nominated storyboard artist and writer Erik Wiese.
[tags]2D animation, nickelodeon, mighty b, Amy Poehler, Cynthia True, Erik Wiese[/tags]


Joanna Quinn and her studio partner Les Mills are winning awards all over the place for their latest animated adventure, "Dreams and Desires: Family Ties", starring Quinn's Beryl character.
BERYL is an unlikely hero. Middle-aged, not beautiful, overweight and an underdog…

The award-winning new film Dreams and Desires – Family Ties follows Beryl as she explores more about her life and it is seemingly a welcome return to the character who became popular after outings in Girls' Night Out and Body Beautiful.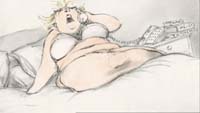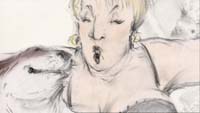 In the past four months, Dreams and Desires has won 14 major awards and it looks like there are more to come. It's hard to beat that.
Here's a picture of Quinn with Bill Plympton.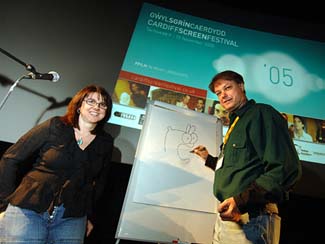 Quinn is best known in the States for her Charmin commercials but, as you can see, that's only the tip of the iceberg with this extremely talented animator. You can own a little bit of Joanna Quinn's art. The Adventures of the Charmin Bear
is a children's book based on the character in her commericials and Britannia
is a DVD where Quinn tells the story of the British empire through the antics of a bulldog. Enjoy.[tags]2D animation, Joanna Quinn, Beryl Productions, Dreams and Desires, Swansea Animation Days 2006[/tags]

There's some wonderful animation happening at Trunk Animation Ltd. from Steve Smith, Siri Melchior and Layla Atkinson. Here is a list of awards this trio has won from their web site:
Bafta Nomination, 2003

Cartoon d'Or Nomination, 2000 and 2003

Nomination for Best Promo, British Animation Awards 2004

Nomination for Best Promo, British Animation Awards 2004

Special Jury Mention, Brisban International Animation Festival 2004

1st Prize, Aspen Internaiton Film Festival, 2004

Gold Prize, Charleston Film Festival 1997

Audience Prize, Britspotting, Berlin 2004

ASIFA Korean Prize, Siggraph 2003

Silver Award, MADC, Brisbane, Australia 2005

2nd Prize, Chicago Childrens Film Festival 2003

etc, etc, etc….
The list goes on but the few mentions above give you a flavor of the talent pool at Trunk. A huge amount of animation is available on Trunk's web page including commericials, show reels and movie clips. They're all worth studying.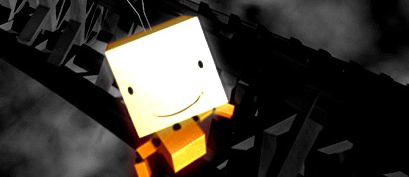 The image above is a portion of a scene from "Leap of Faith" by Steven Smith. Dimples doesn't even like 3D animation but we liked this. It's 60 seconds of viewing fun. Steve has a section on the Trunk site about moving images and design that is worth reading/watching. He makes a good point that "words are cheap as chips".

Layla Atkinson is one of those folks who know exactly what they want to do from a very early age. Her most recent film is "Stealth Lunch". A coordinated band of foxes pursue their prey through a fantastic landscape. This 90 second film is available for viewing on the Trunk web site. It reminded Dimples of a preditor ballet.

Siri Melchior is the third member of the Trunk team and her movie, "The Dog who is a Cat Inside", is our favorite. It's a tremendously inventive bit of animation story-telling. Don't miss it when you browse the Trunk page.
Variety of invention and fantastic story-telling seem to be epidemic at Trunk Studios. Dimples enjoyed the show.
[tags]Trunk Animation, animation, Steve Smith, Layla Atkinson, Siri Melchior[/tags]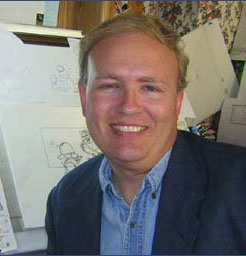 Where do all the animator's go when they leave Disney? One place they've gone is Tom Hignite's Miracle Studios in, of all places, Wisconsin. Dimples has nothing against Wisconsin. Actually, we prefer it to California but this is off topic. Last week, Disney announced another layoff of 650 employees. Some of the people leaving are animators but most of the great animators have already left Disney. Whether or not you appreciate the Disney style, you can't deny that the animation knowledge base at Disney was greater than all of the other animation studios combined. From The Times:
Troy Gustafson, a Disney employee for 12 years, said he had mixed feelings, of sadness and anger, and did not want to see hand-drawn animation die out: "It's a talent. It's a skill. Once it's gone, it's gone."
Obviously, Dimples couldn't agree more. Hand-drawn 2D animation has a style and spontaneity that cannot be duplicated by the plastic puppet faces from CG 3D animation. The good news is that Tom Hignite has gathered a small group of animators in his new studio and they're working on a hand-drawn animation theatrical feature about a character called Miracle Mouse. From Tom Hignite after a tour of the Disney studios as reported in The Times:
"I wondered where the animators were. There weren't any artists behind the desks. They were in the midst of deciding to close the studio down."
He continued, remarking on the difference between hand-drawn and CG animation:
"It's not better or worse — but the advantage of hand-drawn imagery is that it looks more human, more artistic. The human touch is so evident."
Dimples agrees and Dimples would say it is better. It looks "real".
On Dec. 2 of this year, Miracle Studios promise a 30 sec taste of their 2D animation. We can't wait.
Dimples would be remiss if we didn't include a section in this story about Tom Hignite. Who is Tom Hignite? The publicity photo at the top of this story would lead you to believe that he's an animator. He's not. He is the owner of "Miracle Homes". He's a housing contractor and, apparently, an over-the-top Christian. Dimples assumes that's why he names everything "miracle". From the Milwaukee Journal Sentinel:
Hignite acknowledges he had relatively little experience in animation when he began planning a studio. It took about a year of research before he could start looking for artists, he said.

His home-building business, which he also began with little experience, started in 1993 with two home sales. Last year, it sold 220 houses with a total value of about $42 million.

Hignite said he got into the business by selling a home he built on a lot that had been given as barter to his father. Hignite then quit his job as advertising manager for a boat dealer and started building houses full time.

Hignite said he drew the Miracle Mouse character, which has appeared in promotions for his home-building business for several years.

Some observers say the hard hat-donning Miracle Mouse looks a lot like Mickey Mouse, but Hignite said the character is unique, and he doesn't think it infringes on any Disney copyright.
Miracle Mouse looks like Mickey Mouse and the opening page on Miracle Studios' web page looks like the opening to Disney. This is not a good thing. Mr. Hignite may have carried too much baggage from the world of suburban sprawl into the world of theatrical animation.
[tags]2D animation, Disney, Tom Hignite, Miracle Studios[/tags]