Colored-Pencil Animation
One of the most appealing forms of 2D animation is colored-pencil animation. A master of this type of animation is Bill Plympton.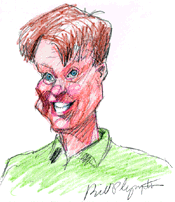 His long career as a cartoonist and illustrator have fostered an animation style that is warm and sketch-like while, at the same time, delivering a raucous surreal punch.
Portions of his traditionally colored feature, High Hair, is available here. If you want to see it in person, High Hair will be shown next week, June 8-11, at the Winnipeg Film Festival, Manitoba, Canada.


Comments