Leigh Hodgkinson – Animator, Writer, Director

Times, they are a changin'. Women animators are breaking down doors with imagination and fresh perspectives. Leigh Hodgkinson is one of those women.
Have you seen "Cars"? The best thing you can about it is that it wasn't all bad. A great technical feat? Yes. Enthralling? No. Did you see the special Disney show where the animators and director of "Cars" were interviewed and profiled? Dimples did. Did you see any women? Dimples didn't but then Dimples was bored and didn't watch the whole show. Movies are made better when made from multiple perspectives. Cars came from a boy's perspective and it was ho hum as far as story and character were concerned. Hollywood needs more women animators, writers and directors. Dreamworks, as discussed in the previous post, has just hired the very talented Scottish animator Sharon Colman. Dimples thinks Hollywood needs to make a return trip to the UK and take a look at the work of Leigh Hodgkinson. She tells great stories with great characters.
From the BBC:
In 1995, after completing an art foundation course, Leigh went to University in Hull, leaving with a first in graphic design. 1999 saw her starting a post-graduate course at the National Film and Television School in Animation Direction where she made two short animated films, "Excess Baggage" and "Novelty". "Novelty" has since toured the world at countless festivals bringing home numerous prizes and awards including the 2002 British Animation Award for Best Creative Use of New Media.
Leigh has been a very busy woman in the intervening years. She's a working animator and director who has proven herself to be extremely accomplished at developing characters and telling stories in many different animation styles. Her film Moo(n) was selected for Sundance in 2004. A great selection of her films is available on her web page and at Slinky Films.
Here is an example of her drawing style from "Moo(n)".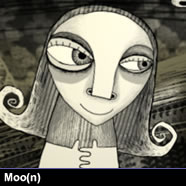 Move over Tim Burton. It's creepy cool 2D animated delight.
Check out these bunny eyes from "Stalk".

There are a few things bouncing around in Leigh Hodgkinson's head. They're funny, surprising, creepy and always entertaining.
[tags]Leigh Hodgkinson, 2D animation, Moo(n), Stalk, animator, director, writer[/tags]

Comments