More Classic 2D Animation from John Lasseter and Disney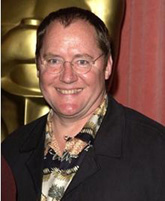 Disney continues the return to 2D hand-drawn animation under John Lasseter. Neither Disney suit Execs nor Lasseter have provided the reason for the full steam ahead return to traditional animation by the southern California arm of the company but Dimples is happy to see the trend continue. From FilmStew.com:
Chief Creative Officer and Walt Disney Feature Animation boss John Lasseter had an unveiling for Disney stockholders this week as they met in New Orleans. The shareholders got a first look at preliminary work on The Frog Princess, a return to traditional animation whose main character is not the typical Disney heroine. The film will be a musical comedy set in New Orleans and will be centered on a character that the execs call 'The Newest Disney Princess', a young African American girl named Maddy, who will be joining the studio's franchise line of Disney princesses. The movie will be directed by John Musker and Ron Clements, directors of Aladdin, The Little Mermaid and Hercules. Those animators left the Disney fold several years ago, as the studio was turning away from 2-D traditional animation. But one of John Lasseter's earliest acts as the new head of Disney Animation was to lure them back. Look for the film's release in 2009, at which time you can enjoy the score by Randy Newman.
[tags]2D Animation, Disney, John Lasseter, Frog Princess, John Musker[/tags]

Comments