The 12th Bristol International Short Film Festival was held in Bristol, UK last week. Bristol is always an interesting festival for animation fans. This year was no exception. Many of this year's films will be available for viewing on BBC-3 after Dec. 8th. One of the films winning an award this year is an intriguing student animation from Daniel Gray and Tom Brown called "T.O.M.". The short animated film won the Cartoon D'Or Nomination. It's not entirely clear what that award is but winning this award puts Daniel and Tom's film made at the University of Wales in the running for further more prestigious European awards. From their web page:
News from Bristol's Encounter Festival is that we didn't win our category. We did how ever win the British nomination to the Cartoon D'or, which was a complete suprise because we didn't even know we were in that section. So we come away with something pretty cool.
"T.O.M." looks more than pretty cool to us here at Dimples' central command center. They've created a myspace page for their film and you can view the trailer there.
[tags]2D animation, Bristol Film Festival, Cartoon D'or, Daniel Gray, Tom Brown, T.O.M.[/tags]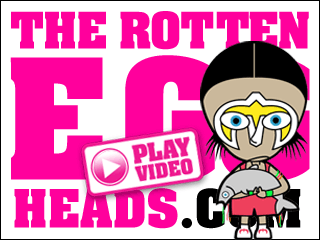 The Rotten Eggheads is an animated on-line series from MTV about five characters with large heads. Dimples has to admit that before seeing this contest, we didn't know that this cartoon series existed. The webpage says that The Rotten Eggheads are part of MTV's European programming. This is from the contest rules:
the rotten eggheads – five unique characters starring in the homonymous open end animation series known from the mtv load project and honoured with numerous awards. the starring characters have two things in common: an enormous egghead and a fragile fate.
at the end of each episode at least one egghead breaks. a new episode of this series goes online on www.therotteneggheads.com every friday themed: "weak! every week!".
The entry should be an entire episode of the Egghead series in cut-out style Flash animation. The prizes are as follows:
your ideas are worth cash! the designer of the best episode will earn 3000 USD and as the winner doesn't take it all, the second prize is endowed with 1000 USD. the third place will still be rewarded with remarkable 500 USD.
The entry deadline for uploading your cartoon episode is September 30, 2006. The call for entries went out in July. Frankly, that's not much time to create an entire episode. Templates to start your entry are available here.
[tags]the rotten eggheads, 2D animation, animation contest, flash animation, MTV[/tags]