November 12, 2006 · Filed Under
Classic Animation
·
Comments Off

on Van Beuren Studios 1929-1936 Home of Tom and Jerry
Not that Tom and Jerry. This Tom and Jerry: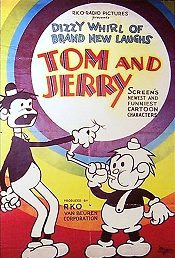 Tom and Jerry were characters in a cartoon series from Van Beuren Studios from 1931-1933. The series was directed by John Foster, George Stallings and George Rufle and Frank Sherman. During the Van Beuren period, twenty-six cartoon shorts were made with these characters. An excellent synopsis of the original Tom and Jerry is available on-line from David Gerstein and Pietro Shakarian at
cartoonresearch.com
.
Dimples loves these classic animated characters from the 1930s because they are an excellent example of the drawing style that pleases us. These cartoons are also noteworthy for their storylines which adopted increasingly surreal qualities. Cartoons should get crazy and these cartoons were that and more.
It is difficult to find examples of Tom and Jerry on DVD today but many of the characters that originated at Van Beuren Studios are available on the Golden Age of Cartoons series. This is a must have collection if you're obsessed with the 1930s as we are here at the Dimples sanitarium.
[tags]2D animation, Van Beuren Studios, 1930s animation, Tom and Jerry[/tags]