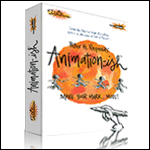 The great folks at ToonBoom have introduced a new 2D animation software package that anyone can use. It's called Animation-Ish. It's a cooperative venture with Peter H. Reynolds who writes and illustrates children's books. His message and the premise of the software is that a drawing doesn't have to look perfect to work. From ToonBoom:
Introducing the world′s easiest software program, designed to have your drawings up and moving in minutes! Created by Peter H. Reynolds, NYTimes Bestselling Author/Illustrator of The Dot, Ish, Someday, and the Judy Moody series, packed with Peter′s inspirational creativity tips and drawings, Animation-ish lets you design animations for movies, greeting cards, websites, presentations and school projects, and then share your creations with the world!
The price for an individual copy is only $59.95 US and that's one tremendous deal. Dimples uses ToonBoom's storyboard software and we love it. Thus, this software is probably created and published with the same attention to detail.
Dimples found a video on youtube with someone trying to use the program but it's not very informative. See below:
[youtube]http://www.youtube.com/watch?v=M5ItrGzrOHs[/youtube]
What's very interesting about this program is the ease and efficiency with which you can create simple animations and export them in a format you can share with others. Dimples thinks this makes the program an especially good deal for the weekend animator. From ToonBoom:
Top Program Features

Over 50 "Inspire Me" video clips from Peter H. Reynolds
3 animation skill-levels
"Project Vault" with Peter's drawings and starter ideas
"Share" feature for exporting into multiple formats
Online lessons from Peter and the animators of FableVision