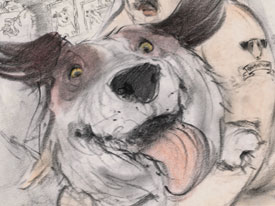 Our love affair with Joanna Quinn is almost unseemly. We can't get enough of her drawing. There's an interesting article in Animation World Magazine on a forum at Bristol where Quinn and her partner, Mills, discuss their work at Beryl Productions. From the Animation World article:
Quinn and Mills were surprisingly frank about their different strengths and weaknesses, and their points of disagreement (Mills, we learned, was particularly disappointed by the "dumpy mongrel" dog who plays a big part in Family Ties).
Dimples hasn't seen Dreams and Desires – Family Ties and can't comment on the acting of the "dumpy mongrel". However, judging from the drawing of the dog shown above, we love him. We're animal lovers at Dimples and one of us has a dog with that precise exhuberant expression of joy. Joanna Quinn has expertly captured "dog soul" in this drawing.
Read our earlier post on Daniel and Tom's animation win (T.O.M.) at Bristol 2006 for a comment from Daniel saying that they're going to be at Sundance along with Joanna Quinn.
[tags]2D animation, Bristol 2006, Joanna Quinn, Beryl Productions[/tags]